Boost Operational Efficiency with Advanced Procurement Technology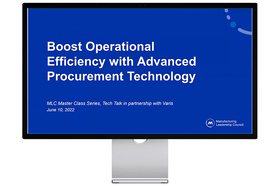 In a time of record-breaking pressure coming from supply chain disruption, turnover, and inflation, even the smallest inefficiency can rapidly impact operational performance and ultimately deteriorate competitive edge. For asset-intensive companies, getting a handle on vendors, assets and parts has been a huge problem from a cost, risk, and efficiency standpoint. Fragmentation and manual processes are time-consuming and limit the opportunity to use analytics to drive growth and innovation.

We invite you to watch our MLC Master Class Series – Tech Talk: Boost Operational Efficiency with Advanced Procurement Technology featuring Stephen Braat of Varis and Simeon Chiger of MSC Industrial Supply Co. and learn how advanced purchasing technology can optimize MRO and drive down the hard costs of your operational spend.

Key takeaways include:
New point of view on how to manage assets and replacement parts in your maintenance program.
Innovative supplier acquisition and management that frees up time and focus for making your products.
An opportunity to digitize and drive adoption across all the product categories your operation and employees need to be successful.
80% time savings in the requisition process: a concrete Maximo use case with Skookum, a 30-year leader in facilities management and logistics support, and its experience solving these problems.
We hope you enjoy this resource!
Watch our Procurement Technology Webinar Now